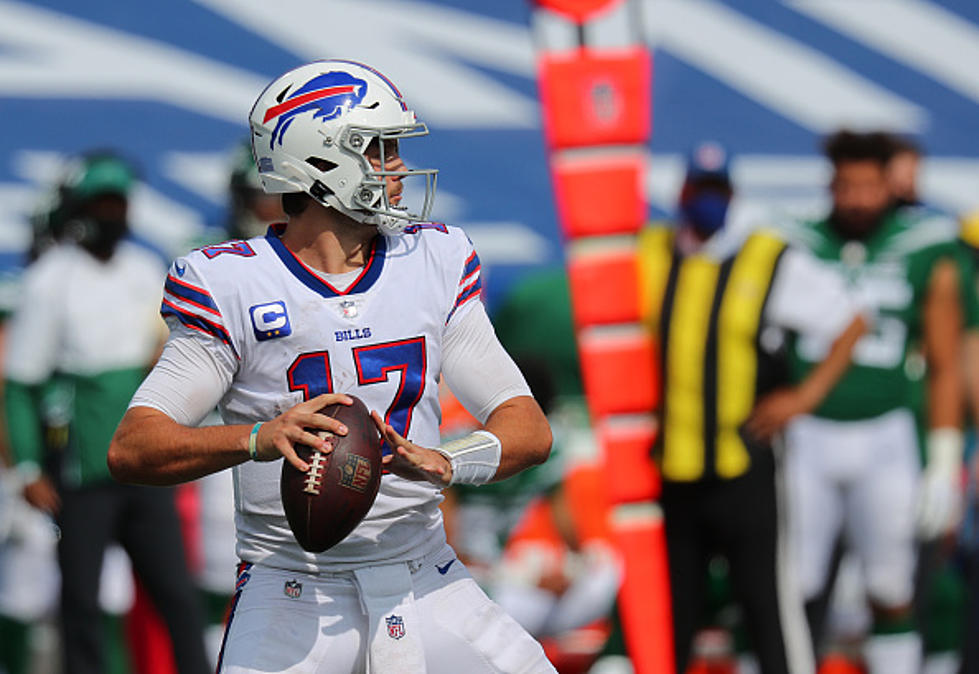 Buffalo Bills Fans Clamoring For Josh Allen To Wear This On Game Days
Getty Images
When I was a kid, I always gravitated to players in sports who had a unique look about them. Usually, it had to do with the uniform.
There was a goaltender that played in the '90s and 2000s for the San Jose Sharks and Carolina Hurricanes named Artus Irbe who wore old, beat up white pads and a funky-looking helmet. I loved it.
I loved that Doug Flutie wore #22 in college -- just because I thought it looked cool.
The Buffalo Bills held OTA's (organized team activities) this week at One Bills Drive, and quarterback Josh Allen was sporting a look he played with a bit in college and some Bills practices, but never in a game. The visor.
Bills Mafia was happy about it.
Allen also wore a yellow tinted visor for practices last season and that's an even cooler look, in my opinion.
To my knowledge, Allen has yet to wear the visor for a regular season game, but many Bills fans are eager to see him wear it for a game. It looks so cool. I'm not sure how different it would be to play in a game setting with that on, but I'm also hoping we see it in 2021.
The Bills will kick off training camp in two months and then the regular 2021 regular season kicks off at Highmark Stadium in Orchard Park against the Pittsburgh Steelers on September 12th.
Go Bills.
15 Things That Will Convince Anyone You're a Western New York Native
Buffalonians have a way of spotting one another even across great distances, like the time I ran into a couple from Alden while in line for an empanada in Key West. But what about if you're new here? Is there a learning curve to being part of the City of Good Neighbors?
13 Things Buffalonians Got REALLY Hyped For
Buffalo is a hype town -- you've probably heard someone say that before.
Take a look back at 13 things Buffalo was SO hyped for.
23 Buffalo Bars We Really, Really Miss