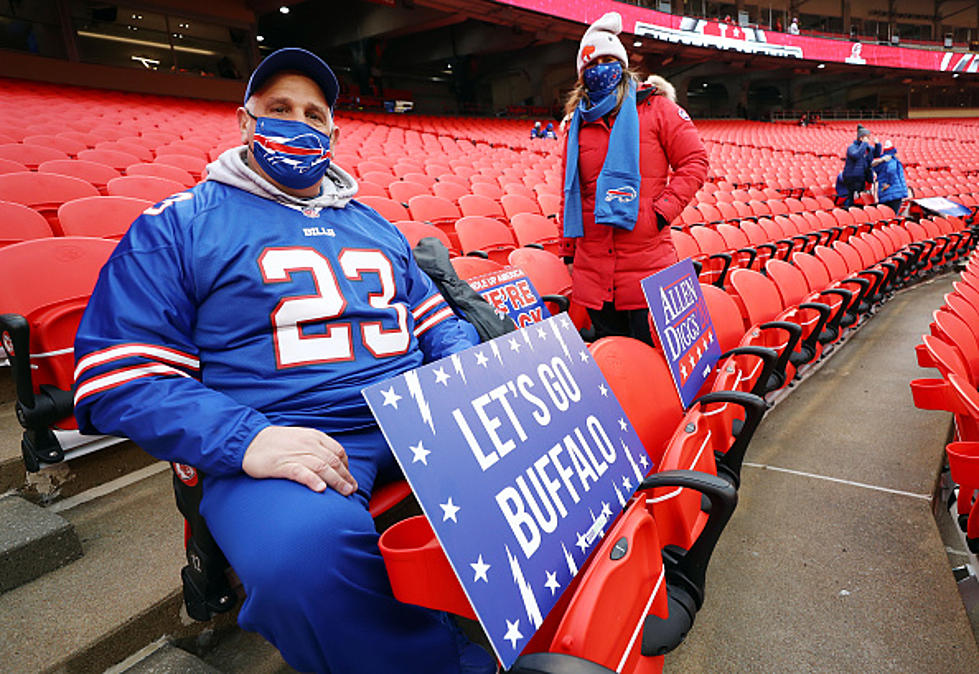 Buffalo Bills Fans Get Awarded Something New To Brag About
Getty Images
You have seen it and heard it in airports all across the globe. When you see someone wearing any attire representing the Buffalo Bills, you either salute them with a "go Bills" or they shout to you "go Bills". It is no surprise to anyone who is from western New York that the Buffalo Bills fans are some of the most loyal in the nation. But now there is proof.
There never seems to be an end to the football season here in the Buffalo area. Sure, the games and the schedule may come to an end. But people here in Western New York and Buffalo always talk about Bills football no matter what time of the year. And even if you go on vacation in the spring or over the summer, or if you were on some sort of work related trip, you will see someone wearing the bills logo. Is it because of coincidence? Apparently not.
According to this article from lineups.com when people move away from the city or the western New York area they retain their pride as a Buffalo Bills fan. Many of them take the ride back to Western New York or fly in for the weekend to see the Buffalo Bills play at Highmark Stadium.
According to respondents, the Dallas Cowboys take the No. 1 spot for most loyal fans followed by the Green Bay Packers, Buffalo Bills, Carolina Panthers and the New England Patriots.
As the season progresses, and the Buffalo Bills continue to get better and better, I'm sure you will see more "bandwagon fans" joining the Bills Mafia around the globe. As a matter of fact, we spoke with country star, Scotty McCreery, on the show recently and even he was saying how much he admires Josh Allen and the Buffalo Bills. It is worth noting because Scotty McCreery has always been a huge fan of the New England Patriots and Tom Brady. It is hard to ignore the The talent and the potential of the current Buffalo Bills team. Next time you travel don't be surprised if someone yells go bills in the airport!
12 Things We Hang From Rear-view Mirror But Shouldn't
25 Important Things You Need To Bring To Your Tailgate
More From CBS Sports Radio 1360 AM