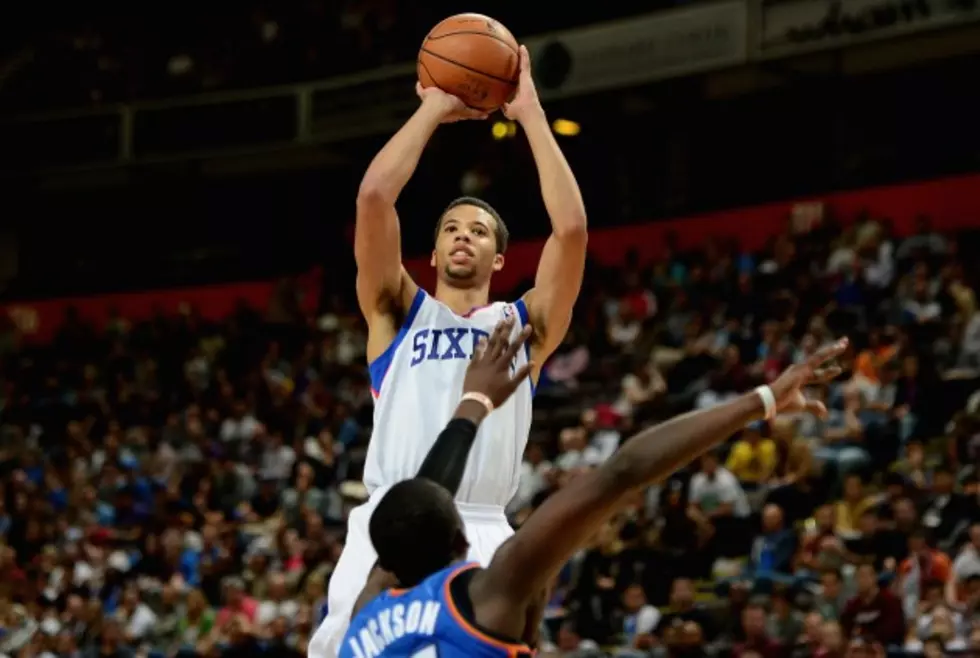 Former Syracuse Star, Michael Carter-Williams, Making Big Splash in the NBA
Jamie McDonald/Getty Images
Coming into the 2013-14 NBA season, the Philadelphia 76ers were met with low expectations.  With an injured Nerlens Noel, the loss of Jrue Holiday to the Pelicans, and an inexperienced starting 5, some believed the Sixers could challenge the all-time worst NBA record of 9-73 set by the Sixers in the 1972-73 season.  Thanks to the outstanding play of rookie Michael Carter-Williams and former bust Evan Turner, the Sixers have rolled along to victories over Miami, Chicago, and Washington as they start the young season 3-1.
Carter-Williams was taken by Philly with the 11th pick in the first round of the NBA draft to fill the vacated point guard spot left after the Sixers traded Jrue Holiday for Nerlens Noel that same night.  Carter-Williams is an over-sized guard at 6'6" lacking superior shooting ability but displayed above average decision making at Syracuse leading them to a Final Four appearance in last years NCAA Championship.  The Sixers thought they knew what they were going to get with MCW, but they must be pleasantly surprised with his All-star play so far.
In his debut, Carter-Williams almost pulled off a quadruple-double, scoring 22 to go along, 12 assists, 7 reb, and 9 steals.  What made that night even more impressive was that the Sixers defeated the defending champion Miami Heat.  Carter-Williams nailed 4 threes and consistently challenged Miami's offense to pass in his direction.
In his third professional game, against Chicago's vaunted defense, MCW again lit up the scoreboard with 26 points and 10 assists.
Carter-Williams came back to earth against Golden state, scoring 18 but shooting only 4-17 from the field.  In Philly's frenetic offense, the shots will be there all season for Carter-Williams.  There is a good shot that even if his numbers fall, MCW could be a serious Rookie of the Year contender.  His play is certainly being recognized across the NBA as he was named the Eastern Conference Player of the Week, becoming the first rookie since Shaquille O'Neal to receive that honor.
For the Sixers, their 3-1 record is very impressive but not sustainable.  Lack of shooting and bench depth will be an issue all year.  The Sixers undoubtedly will be better than that all-time worst squad, but I don't see even a .500 record in their future.