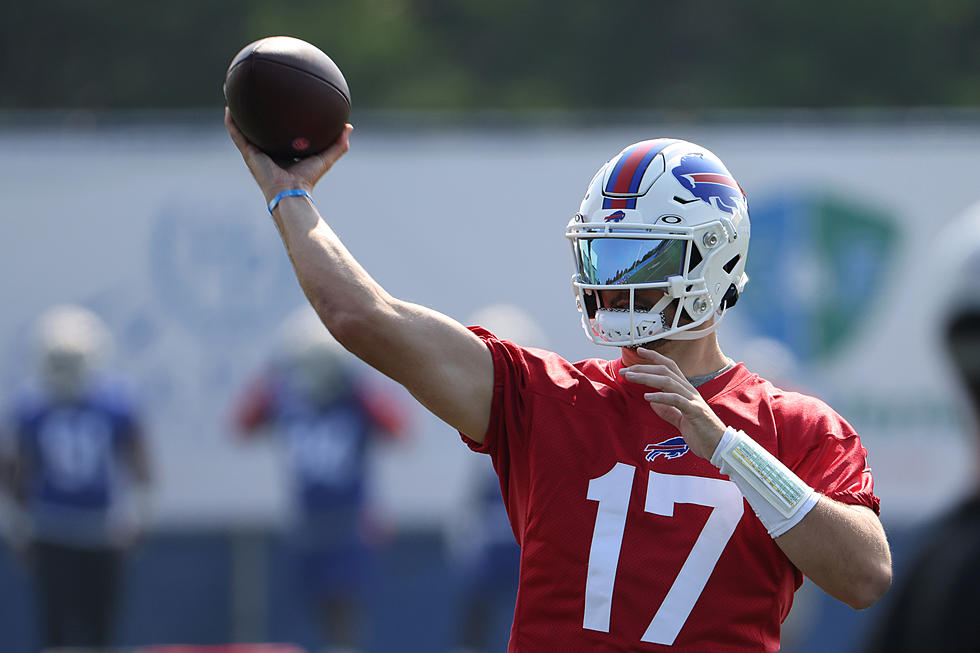 Josh Allen and The Bills Offense Looks "Incredible" Heading Into the 2021 Season
Getty Images
The Buffalo Bills are only a week and a half into the 2021 training camp schedule, but they're already in midseason form by the looks of it; or, at least the offense is.
The Bills held their second open practice of camp at Highmark Stadium on Saturday afternoon to a very anxious and excited Bills fanbase in Orchard Park.
All eyes were on fourth-year starting quarterback Josh Allen, who was signed to a six-year, $258 million contract extension on Friday ($150 million guaranteed; the most in NFL history).
To say Allen has looked great in training camp would probably be an understatement. He's looked downright phenomenal in most sessions and was very sharp again on Saturday.
Allen has supreme confidence on the field in team drills and hit most of his receivers where he needed to on Saturday morning again; including early throws to Stefon Diggs.
He led a touchdown drive on the first series of practice with Isaiah McKenzie getting into the end-zone in front of Bills fans at Highmark Stadium.
Guard Jon Feliciano said after practice that a big reason why the offense and Allen have looked so sharp is because "they ain't learning the playbook."
Feliciano and many of the players on offense have now been with Daboll for three seasons and that's also helped tight end Dawson Knox tremendously, as he says it's night and day from his rookie season to year three in camp.
"My rookie year, I was just trying to line up correctly," said Knox.
He adds that Daboll keeps slowly adding in things as they go along as well.
By my view, Allen has clearly looked in command out there and it's a testament to him that he's had this massive contract extension on his mind the last two days and it didn't matter -- he played great on the field.
."}" data-sheets-userformat="{"2":33554688,"11":4,"28":1}">
CHECK IT OUT: 100 sports records and the stories behind them
KEEP READING: Here are 50 of the most famous sports goofs
More From CBS Sports Radio 1360 AM