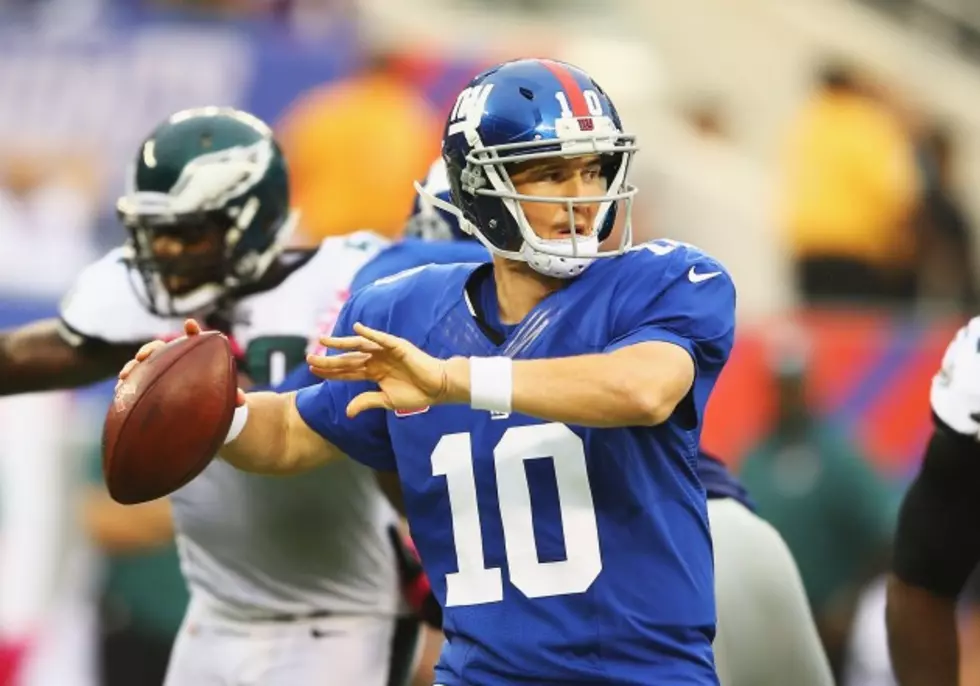 New York Giants Still Seeking First Win, Square Off Against the Bears in Chicago
Al Bello/Getty Images
When the Giants roll into Soldier Field on Thursday night to take on the Chicago Bears, they'll be looking for their first win and a spark that could turn their season around.  The Giants' season to date has been miserable and almost unfathomable.  Next to the Jacksonville Jaguars, the Giants may be the worst team in the league.  Sitting at 0-5 and last in their division, the Giants have some serious ground to make up.
After missing out on the playoffs last year, the Giants were seeking a solid start to the season.  After a tough loss in Dallas, and a blowout in Denver, the Giants team has unraveled.  In their last 3 games against Carolina, Kansas City, and Philadelphia, the Giants have given up over 30 pts/gm, and the Giants offense has only managed to score over 20 point in one of those games.
The issues for this Giants team are seemingly endless.  Their secondary is banged up and ineffective, their running game is non-existent, and they give the ball away far too much.  Though QB Eli Manning can not be the only player to blame for the Giants start, his league leading 12 interceptions have not helped his offense.
The run game for the Giants has been by far the worst in the league statistically, and the injury to starter David Wilson is a crushing blow to roster.  Wilson injured his neck last week against the Eagles and would've needed a miracle to play on a short week.  The Giants' rushing attack will be led by veteran Brandon Jacobs and Da'rel Scott, and they likely won't make a dent in Chicago's stout run defense.  Eli will have to throw close to 50 times for the Giants to have any success tonight.
The Bears come into tonight's game with a 3-2 record after losing to New Orleans last Sunday.  Chicago's much improved offense has been the key to their solid start.  New head coach Mark Trestman has implemented an offense that allows QB Jay Cutler to spread the field and get the ball to his two outstanding receivers Brandon Marshall and Alshon Jeffery.  If all goes according to plan for the Bears, Cutler should be able to dice up New York's defensive backfield.
With a loss tonight, New York will be 2.5 games back of Philly and Dallas in the NFC East.  With more than half of the season to go, you would have to think that the Giants aren't done even if they go to 0-6.  Tonight's game, win or loss, will prove to the rest of the league whether the Giants have any fight left in them.
I'm predicting a 27-17 victory for Chicago with Eli giving the ball away two times and the Giants rushing for less than 50 yards as a team.