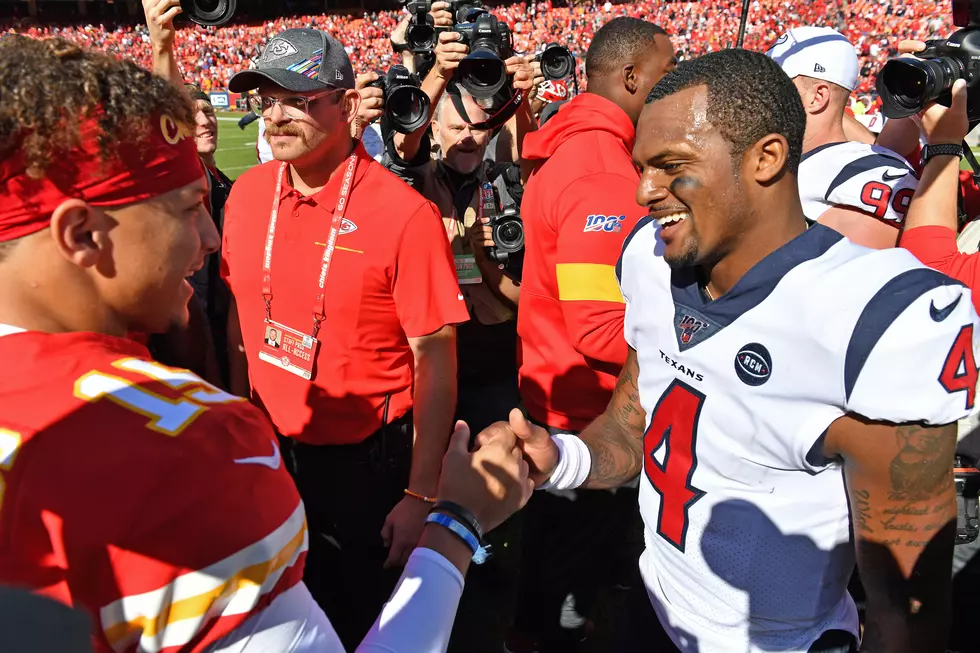 Getty Images
We're hitting a weird time of year in the NFL. This is about the time where we start to realize that one or two of the top teams from the previous season may not be as good as they used to be, or that opposing teams may have found the snag in their winning formula.
Remember the epic shootout between the Chiefs and Rams? That was easily the most fun game to watch all year. That seems like such a long time ago, and now both teams don't seem so invincible.
Last year's hottest team, the Chiefs, were brought back down to Earth for the second straight week. The Texans, with a solid running attack, kept the ball out of Patrick Mahomes' hands as possible to come away from Arrowhead Stadium with a win.
The Rams on the other hand have been a shell of what they used to be.The running attack has dried up, Jared Goff was held to only 78 yards passing against the 49ers, and that defense, while never a strong point, looks even more vulnerable.
The NFL is a parity-driven league, and I for one love how the dominant teams tend to turnover from year-to-year.
Last week was a good bounceback after a few weeks of mediocre predictions. This week, we went 10-4. Here's who are taking home the honors from week six:
---
Offensive Player of the Week: Stefon Diggs, WR, Minnesota Vikings
Stefon Diggs can be slightly dramatic sometimes, but man, can he play.
This season has been underwhelming so far for Minnesota. Their offense should be one of the best in the league. They have possibly the best receiving corps in the league, and Dalvin Cook is emerging as one of the league's best coming out of the backfield.
However, it just hadn't worked. Quarterback Kirk Cousins was not performing up to his lofty contract. Adam Thielen was calling out the quarterback for his showings.
Not the least of the problems was Stefon Diggs, whose antics in the aftermath of a 16-6 clubbing by the Bears caused speculation that he would be traded.
We will get to the significance of Sunday's big win over Philadelphia  for Kirk Cousins in a little bit, but this win was also a huge showing of what Diggs can do on the field.
Seven catches for 167 yards and three touchdowns, even against a porous Eagles pass defense, is impressive. It also goes to show that yes, Stefon Diggs can be dramatic, but he is still one of the league's best.
Runners Up: Lamar Jackson, Baltimore (236 passing yards, 152 rushing yards, one rushing touchdown in victory over Bengals), Kirk Cousins, Minnesota (333 passing yards, four touchdowns in win over Philadelphia), Kyler Murray (340 passing yards, three touchdowns in win over Atlanta), Russell Wilson, Seattle (295 passing yards, two touchdowns, led massive comeback win vs. Cleveland), Nick Chubb, Cleveland (122 rushing yards, two touchdowns against Cleveland), Chris Godwin, Tampa Bay (Ten catches, 151 yards against Carolina)
---
Defensive Player and Rookie of the Week: Devin Bush, LB, Pittsburgh Steelers
Devin Bush is my defense rookie of the year so far, and it's not really close.
The first three quarter of Sunday night's tilt was a masterclass in shutting down an offense, with the Steelers holding the Charges without a point until the beginning of the fourth quarter.
True, the Steelers almost blew the game, but Bush was a stud.
Add in seven total tackles, and Bush had a complete game.
Runners Up: James Bradberry, Carolina (10 tackles, two interceptions in win over Tampa Bay), Kyle Van Noy, New England (22-yard fumble return for touchdown against Giants), Gerald McCoy, Carolina (2.5 sacks against Tampa Bay), Corey Littleton, Los Angeles Rams (14 tackles against San Francisco)
---
Winner of the Week: Kirk Cousins, QB, Minnesota Vikings
I think he can keep up this pace, but Kirk Cousins needed to have a game like this.
Racking up 333 passing yards, four touchdowns against Eagles is a stellar statline for a quarterback, but it doesn't tell the whole story.
I mentioned earlier that Adam Thielen called out his own quarterback following the appalling loss to the Bears. This was just the latest in a string of bad performances for Cousins, where he coughed up the ball six times and had some rather pedestrian passing numbers.  Not exactly what you want from a man you are paying $84 million guaranteed.
However, again, Kirk needed a good game, and he delivered finding Stefon Diggs time and time again, but also completing 75 percent of his passing and getting a passer rating of more than 138 for the second consecutive game.
Can he keep it up? I don't think so. Cousins tends to shrink against more stingy defenses.
However, this will shut people up for at least another week.
Runners Up: Sam Darnold, New York Jets (338 passing yards, two touchdowns, one interception, big victory over Dallas in first game back from missing 4 games with mono), Houston Texans (Big win away at Kansas City), San Francisco's defense (Held Rams QB Jared Goff to merely 78 passing yards), Seattle Seahawks (Comeback win over the Browns and THIS touchdown celebration):
---
Loser of the Week: Atlanta Falcons
Matt Ryan is being wasted on the Falcons horrible defense.
The Falcons have only won once this year, but did you know Matty Ice has thrown for more than 300 yards in every single game this year?
Case in point: this Sunday's loss to Arizona.
The Atlanta defense yet again crapped the bed, letting Arizona build a 27-10 lead in the third quarter, but Ryan did a good job of chipping away at that deficit, fighting back to within a touchdown late in the game.
With less than two minutes to go, Ryan completed a touchdown pass to Devonta Freeman. All kicker Matt Bryant had to do was nail the point after, and the Falcons would be all tied up.
Yeah. He missed it. Falcons lost by one.
I'm not saying Bryant lost the game, his miss was just the end result of a larger problem. That defense is an absolute liability, and honestly, it's ruining a pretty talented offense.
It's hard to believe that the Falcons were in the Super Bowl just three years ago.
Runners Up: Marcus Mariota, Tennessee (Ineffective is an understatement against he Broncos, less than 70 passing yards, two interceptions, benched in third quarter for Ryan Tannehill. Imagine being benched for Ryan Tannehill.), Cleveland Browns (Up 20-6 in second quarter, lost in OT to Seattle), Will Fuller, Houston (Dropped three sure-fire touchdowns against Kansas City)
---
Best Uni Matchup of the Week: Pittsburgh Steelers vs. Los Angeles Charges
This combo was so easy on the eyes Sunday night. The Chargers wisely decided, after years of fans crying out for it, to make the powder blues the primary home uniforms.
Turns out they pair wonderfully with the Steelers classic uniforms.
Runners Up: Dallas Cowboys vs. New York Jets, Detroit Lions vs. Green Bay Packers
---
Most Barfy Uni Matchup of the Week: Atlanta Falcons vs. Arizona Cardinals
On the flip side, here we have two very dated uniform sets, a black-for-black-sake version that was thought up because, I don't know, reasons I guess.
Atlanta's uniforms have definitely aged out since they were introduced in the early 2000s.
The aforementioned black Cardinals uniforms are trash. They were also cluttered by a bowtie-shaped patch to remember Cardinals owner Bill Bidwell, who recently passed away. Definitely a nice sentiment, but they should decrease the patch's size by about half.
For Larry Fitzgerald in particular, it made for a very cluttered uniform, which had the Bidwell patch, his captain patch, and his patch signifying him being given the Walter Payton Man of the Year Award back in 2016.
Both teams need a redesign, yesterday.
Runners Up: Cincinnati Bengals vs. Baltimore Ravens, Tennessee Titans vs. Denver Broncos
More From CBS Sports Radio 1360 AM