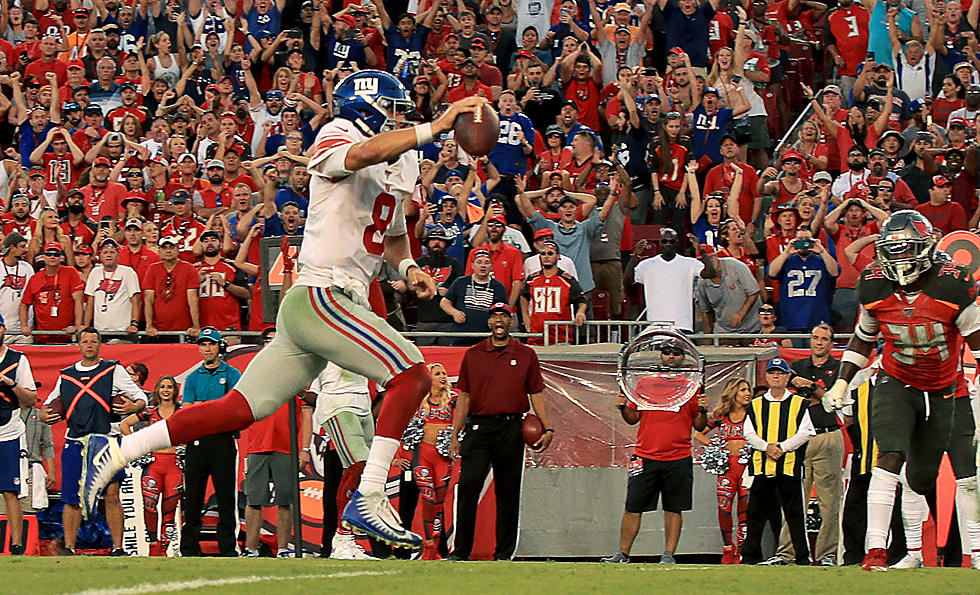 NFL Quick Hits: Week Three
Getty Images
An 18-point comeback, loads of new starting quarterbacks, and yes, more Antonio Brown drama-- this week had it all.
I did slightly worse this week in my predictions, going 11-5 after two straight weeks of predicting 12 games correctly.
Here's the honors for this week:
Offensive Player of the Week and Rookie of the Week: Daniel Jones, QB, New York Giants
Well, how about Danny Dimes?
In my predictions for this week, I was pretty accurate in saying Daniel Jones would perform well and the Giants would win a close, one-point victory, but no way did I think that the Giants' game against the Bucs would go like that.
and two rushing scores... man, what a stat line.
Even more, Saquon Barkley was out with what turned out to be a high ankle sprain. Meaning Jones did what he did without possibly the most explosive player in the league.
The next few weeks will be the real test, now that teams have game film to study of Jones, but if Danny Dimes can lead the Giants to a winning record while Saquon is out, the G-Men may be able to silence the critics who said drafting Jones so high was a reach.
Defensive Player of the Week: Khalil Mack, OLB, Chicago Bears
There were some strong candidates this week on the defensive side of the ball. Calais Campbell almost single-handedly shut down the Titans offense with three sacks and seven tackles. So too did Preston Smith for the Packers, also grabbing three sacks and forcing a fumble against the Broncos.
I'm so close to giving the award to Arizona's Chandler Jones, who racked up two sacks, forced two fumbles, and recovered one.
However, I am going to go with Khalil Mack, who proves each and every single week that he is an absolute alien on the defensive side of the ball.
Mack may have an ever so slightly worse stat line than Jones, but his impact goes far beyond the two sacks and two forced fumbles he had against the Redskins on Monday night.
The Redskins, albeit one of the less explosive offensive teams in the league, could not get anything going.
The Raiders trading Mack to the Bears was a stupid move then, and it's one that has not exactly aged like wine. It's aged more like chocolate milk.
Winner of the Week: New Starting Quarterbacks
We already went over Danny Dimes' big week, but other QBs filling in for more established vets also performed well.
Kyle Allen threw for the most touchdowns this week with four while filling in for Cam Newton. This game really put Cam's accuracy woes into real perspective. When you get a quarterback in that Panthers offense that can throw catchable balls to receivers, that offense looks good.
Teddy Bridgewater's numbers did not jump off the stat sheet and he definitely isn't Drew Brees, but he doesn't need to be. Through one week, the Saints are handling Brees' injury well. They aren't relying on Teddy, but having him do what he can when they need it. He had a good pass percentage and quarterback rating, threw two touchdowns, and went into Seattle and got the victory, which is no way an easy task.
Loser of the Week: Antonio Brown, WR, Free Agent
One game. That's all Antonio Brown lasted in New England.
I'm not going to go over all the allegations that are out there about Brown that led to his release from the Patriots. That's a whole separate article entirely.
What I'm looking at right now is the timeline as a whole. He started off the summer with a massive contract with the Raiders, with the intention of basically being the centerpiece of the organization.
He then goes on a world tour of bad PR decision with I personally feel was a coordinated effort to get released from the Raiders, since AB didn't really have a choice in being traded to Oakland.
The helmet antics, the cryogenically fried feet, getting into an altercation with your general manager and allegedly calling him a cracker (which AB denies saying)... all leading to losing your guaranteed money and getting released.
He started of the summer with tens of millions in money, and now is looking at only receiving a minuscule portion of that.
However, here is my big prediction for the future... Antonio Brown will sign on to play in the XFL, WWE head Vince MacMahon's rebooted venture into professional football.
Think about it: Antonio Brown did not  say he is retiring. He said he won't play in the NFL again. Big difference between the two.
The XFL is just getting off the ground, and knowing Vince MacMahon, he will want a big name to be a part of it. MacMahon also likes personality guys, if you remember from the first XFL at the turn of the century. There's no bigger personality in football right now than Antonio Brown.
Or I could be completely wrong and AB just wants to take business classes to open a chain of restaurants.
Best Uni Matchup of the Week: Oakland Raiders at Minnesota Vikings
This may be my favorite combination of uniforms so far this year.
It was a nice callback to images of the Purple People Eaters in Super Bowl 11 going head-to-head with the John Madden-led Raiders:
 A lot of the modern NFL uniform redesigns have been mediocre at best, but the Vikings redesign from a few years ago is easily the best one. Pair that with the Raiders, which is essentially a blank canvas for football uniform aesthetics, and you have a masterpiece on your hands.
Most Barf-y Uni Matchup of the Week: Tennessee Titans vs. Jacksonville Jaguars
On the flip side, this game was a crash course on bad uniform redesigns.
Both teams unveiled new uniforms before the 2018 season, and both are "meh".
Yeah the Jags got rid of that nasty two-tone helmet they used to have, but their current setup is a generic teal mess.
The Titans got rid of their two-tone blue and opted for a sword-themed set that is a little too busy.
Throw these two uniforms in a game with torrential rain, and you get a sloppy mess.
More From CBS Sports Radio 1360 AM